Be Holiday Strong!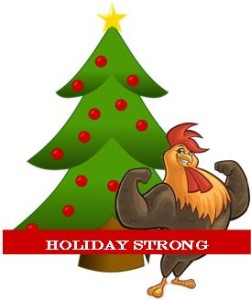 Happy Thankful Month Everyone!
I've Decided to be Holiday Strong…Who's with me?!
It is the beginning of the Holiday Season. It's the time of year when it is so easy to get wrapped up in the hustle and bustle of traditions, shopping, food, and out of town guest. It is easy to start feeling out of control and overwhelmed with all that is going on. Before we get to deep into the craziness, I want you take time to make a plan and be intentional about what your goals are over the next 2 months to finish up the year strong. This year, I want to encourage you to decide to do things differently and make a plan of action to be Holiday Strong!
What does it mean to be Holiday Strong? First and foremost, it means taking time to remember THE REAL REASON we celebrate Christmas, the birth of Christ our Savior! Keep your mind on that REASON first! Being Holiday Strong also means you have the power to be in control of your choices. It means you have a plan and a goal, and you are going to take action and stick to it. Remember, there is a time and place for everything. Holiday Strong means you know what time it is. Is it time for you to maintain weight or do you still want to lose a few pounds before January comes? Do you still have more weight to lose, but you're ready for a little break from restricting your calories? If so, you could plan a metabolic tune-up for a few weeks. Maybe this year you decide to really go for something crazy and cook a healthy Thanksgiving Dinner. Now, that's something new, right? Whatever it is…You are in control because you are Holiday Strong!
Decide now what your goals are. Spend this first week of November taking time to plan out your tasks. When will you shop? What are travel dates and when will guest arrive? Take care of as much of your grocery list as early as possible. Do not procrastinate. Make a plan and stick with it. Remember to set aside 10 minutes of quiet time each day to focus on THE REAL REASON!
Holiday Strong means you are not flying by the seat of your pants. You have a plan and you are in control!
Join me in the movement to be Holiday Strong!
Be Decided,
Kim